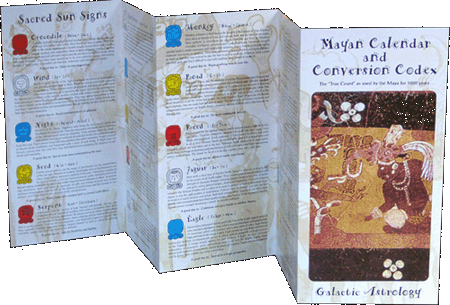 The Simplest Conversion to Mayan dates Ever!
NOW Available in Spanish - click here
Wholesale pricing Available
admin@mayanmajix.com
Perpetual Mayan Calendar is a simple tool to quickly convert a standard Gregorian date to the Mayan Tzolkin Calendar date. You can look up your date of birth and find out your Mayan Sun Sign and Galactic tone or look up any date such as an important event and see what the Mayan Tzolkin date was or will be. Among the most useful aspects of the Codex is that it can be used as a "Daily Oracle" to follow the specific energies of each day of the 260 day Tzolkin calendar. The Codex also includes a directional energies chart which shows how each of the 20 Sun Signs interact and relate to one another.

The Codex provides definitions and meanings of each of the 20 Sun Signs and 13 Galactic tones. This information has been translated directly from highest K'iche' Maya priests "True Count of Days" as kept by the Guatemalan highland Maya priests for the last 3000 years. A beautiful 11 x 27 inch" presentation of Maya art. Charts good thru 2026.

To each of you considering the purchase of a Codex:
The Mayan calendar is a prophetic tool that is quite profound. The pattern of creation's energy comes and goes round and round, up and down. With this simple tool, a pattern and flow of creation can now be found. Ian Lungold
studied for years the details of how this is done and has written it down.
Each of you who purchase the Codex will receive an enclosed 4 page letter.
The purpose of which is to help you apply this wisdom all the better.



Welcome All, To the Evolution !
Step right this way Through the Portal of Intuition




__________________________________
HOME / MARKET / INFO CENTER / LEARNING LAB / ANCIENT MAYAN SITES
ARTICLES / LINKS / CONTACT US


Copyright 1998 - 2015 Mayan Majix , all rights reserved.





Mayan Calendar
- Mayan Calendar page about
and use Mayan Calendars, Mayan calendar products.
Mayan Horoscopes
- Mayan Horoscope page about and use
of Mayan Astrology, Mayan Horoscope information.
Mayan Jewelry
- Mayan Jewelry page, unique handmade
ancient Mayan symbols in Sterling Silver.