Tzolkin Trecena Notes – 1 Ahau (Sun)
Day 40 of the 260 Day Tzolkin
Gregorian Date: October 18, 2009
Trecenas are thirteen-day periods in the Tzolkin. Each Trecena starts with the Number 1, but with
a different Day Glyph. As a wave of the Thirteen Heavens, the underlying energy is governed by
the First Day Glyph of the Trecena and influences all thirteen successive Day Glyphs. Being aware
of the predominant energy of the First Day of the Trecena, we can align our intentions with that
energy and allow our goals to manifest.
This Trecena starts with 1 Ahau (Sun/Flower/Light Lord) – enlightenment, remembrance, honor of ancestors, ascension, unconditional love, awareness of co-creation, awareness of new possibilities
and new beginnings, awakening to miracles.
Sun or Light energy represents source energy that compels us to seek our spiritual path. The dreamer
or visionary in each of us who follows his heart while remaining grounded by earthy ancestral
wisdom will complete the spiritual journey.
Sun energy gives us the power to co-create whatever we put our attention to. This energy of light resonates with new concepts. Each Tzolkin round consists of seven days and six nights (Thirteen
Heavens or Uinals). On 2 Imix, the Tzolkin moves into the second day, so 1 Ahau is a new
beginning, opening up to the next level, the germination phase of Heaven Three.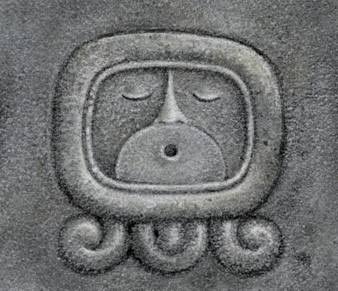 ©
2006 Judith Ann Griffith
<![if !vml]><![endif]>
The Maya also called this day sign the Day of the Ancestors or Lords, which was considered to be
the most sacred of all days. According to Kenneth Johnson in Jaguar Wisdom: "This is the day sign
of all things lordly and complete, including the world of the Ancestors, that lies behind our present moment, linking us with times past in an endless revolution of days…it is clear that it represents
that ecstatic process that connects us to the collective mind and to the cyclic flow of time itself."
Another representation of the Trecena is that of a creative wave beginning at 1 and ending at 13,
with the numbers 6, 7 and 8 representing the crest of the wave. The crest could be interpreted as
a strong influential energy, although the underlying influence on the Trecena would still rest in
the beginning. Light energy underlies (or influences) the days of 6 Chicchan, Serpent or Kundalini
energy rising up the spine connecting us with earthly and heavenly energies; 7 Cimi,
Transformational energy, death and rebirith; and 8 Manik, Deer or Healing Hand energy
representing the groundedness of the 4-legged animals and the opportunity to heal our spirit.
As we journey through each day of this Trecena (1 Ahau, 2 Imix, 3 Ik, 4 Akbal, 5 Kan, 6 Chicchan,
7 Cimi, 8 Manik, 9 Lamat, 10 Muluc, 11 Oc, 12 Chuen, 13 Eb), utilize the energy of Light Lord
to look at your personal patterns and determine what is important to your spiritual path in this
moment. Pray and give thanks to the Ancestors for guidance to dream your life.
***For a list of all 20 Mayan Sun Signs - click here ***

In Lak'ech,
William and Viola
©2009 William and Viola Welsch